Patented systems for cleaning, disinfection and drying

Variable and selectable cleaning time and procedure

Unified cleaning system (cleaning, disinfection, washing, rinsing, drying)

High quality stainless steel construction

Quality assurance and certification
This state of the art Chemical Protection Suit Cleaning System provides for first quality comprehensive cleaning including disinfection and drying.
This leads to the best cleaning results of your equipment such as respiratory protection masks, breathing regulators or CPS of all types at low personnel costs.
Self-explanatory menu navigation, easy programme selection
Fully automatic dosing with level control
Separate discharge of waste water possible
Constant ventilation of washing room
Side Channel Blower with heater for fast drying
Remote-access online maintenance possible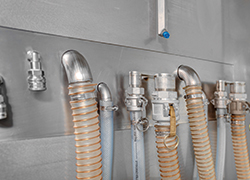 Attention:

Important information from "Dräger" and "MSA" about new cleaning agents and new disinfectants.
As you can see from the information provided by Dräger, both the neodisher.


MediClean forte and the disinfectant neoform K plus are recommended as a replacement/alternative.
MSA explicitly recommends only the neoform for disinfection, but specifically cleaners from other manufacturers with the addition:
"Other cleaning products available on the market can ONLY be used if the chemical
Composition is identical to the above according to a risk analysis carried out by the end user."
Therefore we would like to point out that the use of neodisher is at your own risk.


Here are the documents available for download (pdf format):




Neodisher-MediClean-forte-leaflets.pdf





Neoform-K-plus-product-description.pdf



Info sheet Draeger-new cleaning and disinfecting agents.pdf

Info-sheet MSA new cleaning and disinfecting agents.pdf

Customer video
Cleaning Module for Chemical




Protection Suit
(CPS) (Art. No. 74.50.11.00)
For fully automatic procedure of all




cleaning processes for CPS




(rinsing, cleaning, disinfection, drying)

Seawater resistant anodized aluminum




frame for protective clothing which is




air-steamed for optimal cleaning and




prevention of wrinkles
Cleaning Module for Respiratory




Protection Masks
(Art. No. 74.50.05.24)
For fully automatic procedure of all cleaning processes for up to 24 protection masks




(rinsing, cleaning, disinfection, drying)

For different types of masks

Cleaning without mechanical stress through rotating and swinging movement of the baskets

Entirely stainless steel, also connectable to ceiling rail system
Cleaning Module for




Breathing Regulators
(Art. No. 74.50.07.00)
For fully automatic procedure of all cleaning processes for up to 32 breathing regulators




(rinsing, cleaning, disinfection, drying)

4 rotating receptacles with 8 flexible




cleaning spaces for breathing regulators

Entirely stainless steel, also connectable




to ceiling rail system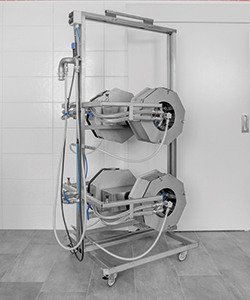 Cleaning Module for




Compressed Air Breathing




Apparatuses
(Art. No. 74.50.06.00)
For fully automatic procedure of all cleaning processes for up to 6 compressed air breathing apparatuses simultaneously




(rinsing, cleaning, disinfection, drying)

2 vertical cleaning levels with 4




motor-driven rotating washing frames

Including 6 compressed air bottles at 0.36 l each

Packing units for manometer and electric attachment parts

Entirely stainless steel, also connectable to ceiling rail system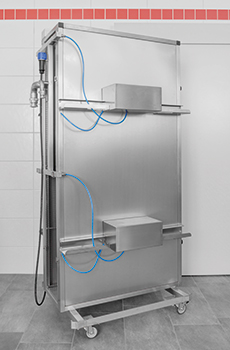 Cleaning Combi-Module for




Respiratory Protection Masks




and Breathing Regulators
(Art. No. 74.50.05.02)
Fully automated procedure of all cleaning processes for up to 12 protection masks and 16 breathing regulators




(rinsing, cleaning, disinfection, drying)

This alternative module is a perfect combination




to the single version of masks and




regulators offering maximum flexibility for




a user that has low throughput

Cleaning without mechanical stress




through rotating and swinging movement




of the baskets

Built entirely from stainless steel and




connectable to a ceiling rail system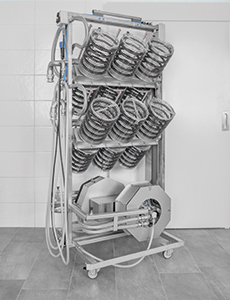 Cleaning Module for Helmets
(Art. No. 74.50.07.50)
For fully automatic procedure of all




cleaning processes for up to 16 helmets simultaneously




(rinsing, cleaning, disinfection, drying)

1 motor-driven washing frame with one




spray lance per level

Entirely stainless steel, also connectable




to ceiling rail system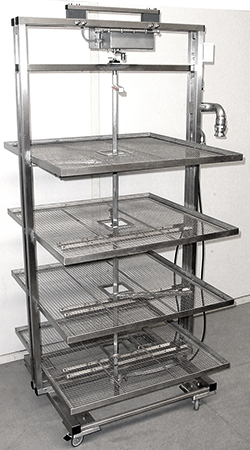 Portable CPS Unit
(Art. No. 74.55.01.01)
For the storage and transportation




of 2 Chemical Protection Suits

Hydraulic height adjustment




via local foot pump

Entirely stainless steel

Transfer feature for ceiling rail system and




for connection directly to CPS-Station